As you know, Quito is the capital city of Ecuador (and a World Heritage site, of which we are very proud!). As such, when it comes to shopping you can find just about anything you need or want. Ok, maybe not as many quilting supplies as we'd like, but still… we manage.
There seems to be very little that we are not able to find here in town. And yet, even that little bit we sometimes crave, and look forward to having someone bring this or that down for us. This time it was my mother's turn to bring us goodies, after a month-long visit back in the U.S. And here are some of the not-to-be-found-locally items she brought me: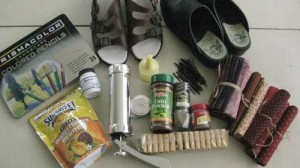 Ok, so some of this is self-explanatory. Like the lovely fat quarters sent by my brother (I love them, ñaño!), the prismacolor pencils and color extender. But why bring down shoes to a country known for its wonderful leather goods? Believe it or not, I have still to find a decent clog, and Brasko clogs are all I wear. These are particularly soft…
Then there are fig newtons and orange-flavored prunes. Prunes can be found, but not as tasty as these. And, after over 30 years of using the same cookie press, it was time for a new one. With new shapes. Just wait 'til December rolls around this year!
In the land of spices, there are some you just cannot find here. Therefore the chili powder, cardammom and mace. Ready for more baking!
The strangest item in the photograph above is right between the spice bottles and shoes. Can you guess what it is? Of all things: hairpins! They simply do not exist locally – all I can find are short bobby pins. And I have waist-length hair that I am never able to keep in a bun for long, and have been known to leave a trail of bobby pins in my wake, before the whole mass finally comes tumbling down.
Look at what I can do now! Yipee!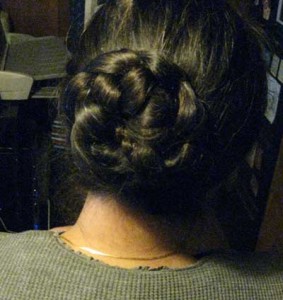 The only thing lacking in this package was the kosher dill pickles and cottage cheese! Next time, Mom?