Voters in Ecuador returned to the polls again yesterday. This time we were electing our representatives to the Andean Parliament and, in the rural areas, local authorities at the parish level.
You will recall I posted about our General Elections a few weeks back. Those elections were more interesting for me, both because we were electing (re-electing, as it turned out) our president and vice-president, along with our National Assembly representatives and local municipal (city) authorities. And for our family it was an especially important day because my mother was able to vote for the first time in her life.
After seven electoral processes in two-and-a-half years, however, the country is sort of burnt out, and there was very little interest in the elections yesterday. I have to admit I did my "civic duty" half-heartedly.
On the way to the school where my son Jono had to vote, we were easily distracted. That actually happens fairly frequently in a city where people think it is "cool" to use foreign names for their businesses (especially in English or French), without realizing they have misspelt the name or -even worse- have used a rather objectionable term to describe their business. We just had to stop and take photos of this particular Chinese food place. Can you see what the sign says?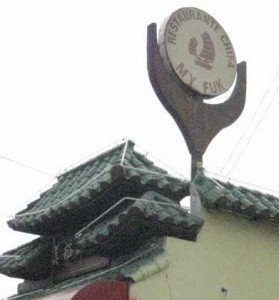 Just in case you can't make that out, they have a second sign right below the first one: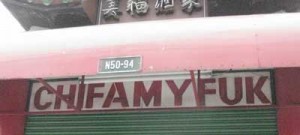 Still in doubt? How about a THIRD sign for good measure?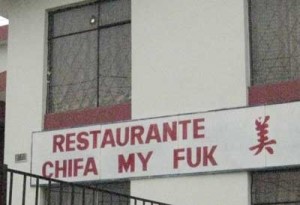 We told ourselves we should really be neighborly and explain to the owners of this business how this looks to an English speaker, not quite knowing what is more offensive: the spelling or the meaning? Unfortunately, the place was closed, so we were left with nothing but good intentions.
Onto the polling place, I found what was happening in the street more interesting than in the polls. And still, pretty deserted as compared to other elections.