All the kids – Jamie, Jono, Alexia, and Julian – have taken off for the beach again. It's a long holiday weekend and they wanted to take advantage of this last chance before Julian and Alexia have to return home in a couple of weeks. And, of course, they wanted some more tie-dyed T-shirts to take with them. No matter what you do, they always turn out great. The kids absolutely love this activity.
While we were at it, we dyed a few pieces of fabric, too.
On a roll here… how about experimenting with some clothesline? Hmmm… will this become a bag or a bowl?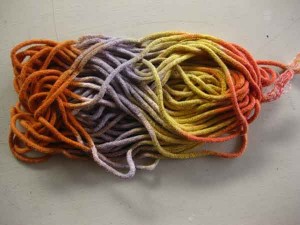 And with the leftover dye, I decided to throw in some scraps of batting, just to see how the dye would take. Like cotton candy, don't you think? I' m getting ideas of how to use these!