A BIG Christmas tradition in our family (as in many others… you probably relate) has to do with the filling and opening of stockings. Growing up, this was something my mom did for us.
Being the practical woman she is, our stockings often contained not-so-glamorous objects like a toothbrush or bar of soap. The simple act of including them in a stocking made them "special." As we grew older – and hopefully a little less self-centered and a lot more generous – we began to notice her stocking, in comparison to our, often hung empty. I'm sure that quite clearly led us to the conclusion there is no Santa, but there is a Mrs. Santa. This new awareness was probably responsible for the fact that over the years my mom's stocking never went empty again and, in fact, quite often was the one that bulged the most. Some might call this over-compensating…
So these days, everybody gets into the fun of filling the stockings. With a growing family, this has often meant we have had to hang an additional bag from each stocking to hold all the goodies. And one of my contributions has been to make sure every member of the family has his or her own personalized stocking. I'd like to share some of them here – at least those I found packed with my Christmas things. I'm guessing the rest must be still over at my mom's house, where we always spend Christmas together.
When I first started making these "personal" stockings, I had just started to quilt and, as most beginner quilters, traditional designs where what lived in my brain. I was also cross-stitching at the time. So this explains my own stocking (center), made with orphan cross-stitch blocks. This was also part of my "blue" period. My oldest son chose the design he wanted. I was still pretty new to paper-piecing at the time, so stitching this nutcracker block (left stocking) from the Foundation Piecer (remember that magazine?) was no easy feat. And then I decided to play a little with satin and crazy quilting for my equally crazy daughter-in-law (right stocking). That was fun.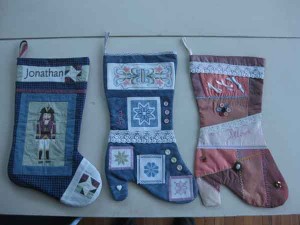 I actually need to backtrack a little here, because the first truly "personal" stocking (on the left) I made was for Jamie, while she was still small. The design was from a German Burda magazine, and was actually meant for fabric painting, but I decided to embroider it and quilt it. At age 22, she still thinks these bears are special. And then the other bear stocking (on the right) was made for Alexia, for her first Christmas here in Ecuador while she was still a toddler. I love these stockings.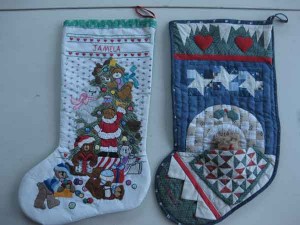 Other stockings not shown here are Jared's black and white spiderweb stocking, and Julian's jester-style (with jingle bell and all) stocking. They must be tucked away somewhere. And although it's taken a while, last year I finally got around to designing and making some bone and paw stockings for our four-legged family members (2 dogs and a cat):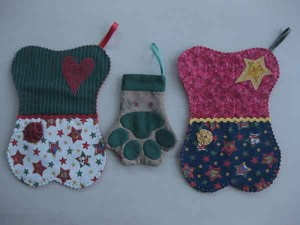 Last, but not least (and yes, it has taken me a couple of years to get around to this one, too!), this year I designed and actually made a truly whimsical stocking for my daughter-in-law, Karina. Why this? Because in all the years we have known her, we have never seen her wear a pair of shoes. No matter how cold or wet it is outside, she invariably wears sandals. So this is pretty much the only stocking I could make her, wouldn't you say?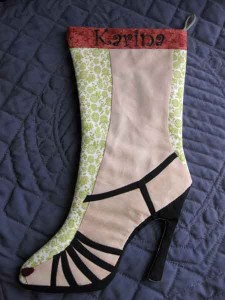 It doesn't look like there will be any new family members popping up any time soon. So I'm thinking maybe I should start a new series for Christmas guests?