Those of you who have been following me for a while know I LOVE to make fabric collage. I always figure it's a fun way to indulge in my love of fabric… by making even more fabric! So with Christmas on the brain, I thought I would take a little time to make some gift tags out of the growing heap of tiny scraps that tend to accumulate in my basket. And why not share a little tutorial, right?
Ok, so if you've never made fabric collage before, you will find two different tutorials for this on my website. One of them involves the use of organza, which you could use, if you like, although I prefer that particular technique for making small wall hangings, purses, cases, and other small items. For these little gift tags, I used a more simple technique. You can follow whichever one you prefer.
1. For these gift tags, I prepared my collage on a thin fusible web. I placed the bits of fabric onto the glue side and pressed to hold them in place. I then stitched with different threads and decorative stitches to achieve this crazy quilt look.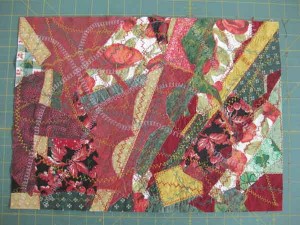 This is what the back side looks like. Pretty cool, isn't it?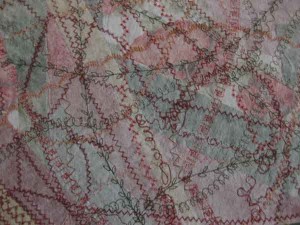 2. After trimming the edges, I then pressed a piece of thick fusible web to the back. This will allow me to easily write whatever I want on the back of my tags.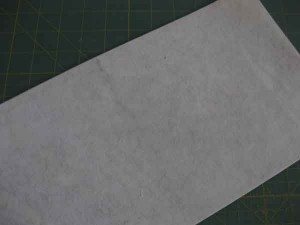 3. And then cut the piece into strips… about 2 inches wide. You can go with any width you like.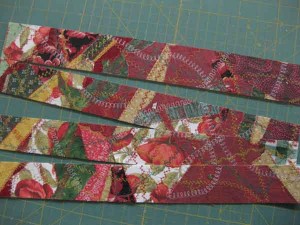 4. I then cut each strip into smaller pieces. I cut mine about 2½" long. And trimmed the top edges.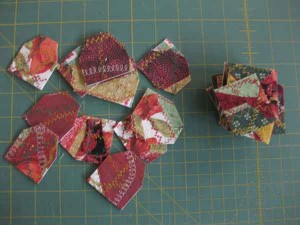 5. Next I used a small zig-zag stitch on the edges to hold it all together, and to keep them from fraying.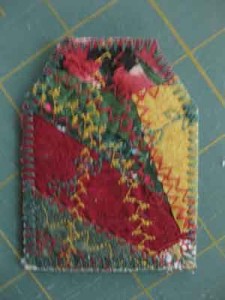 6. Punched a hole and attached a piece of ribbon. And that's as easy as it gets! Now, aren't these pretty?