I'm still on a designing roll. 🙂 And I know there isn't much time for lengthy quilting projects this close to Christmas, but I think we can still squeeze some small ones in… I can't help but think how much fun it is to decorate the house with small, whimsical decorations.
One of our most popular Christmas patterns is this snowman snow globe: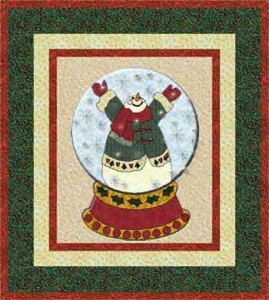 So I thought I'd start a new "tradition" and add a snow globe pattern each year. What do you think?
So this is this year's version… yay!