As you know, for those of us who quilt in countries where quilting is not a tradition, the biggest challenge is finding suitable fabrics and other materials needed for this art form. But every now and then we get really, really lucky.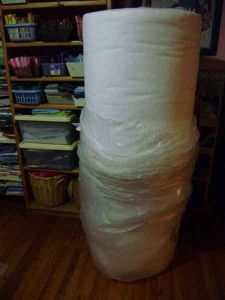 Take batting, for example. Now although we don't have the large variety you would find in the U.S. so far we have been able find batting in three different weights here. And yes, they are all a polycotton blend, but we are happy because the batting obviously has a high cotton content, and is soft and easy to work with. Best of all is the price. And if we buy the whole 100 meter roll (about 109 yards), we get an additional discount. US$ 95 for a 100 meter roll (1.5 m or 59 inches wide). That comes out to about .87 cents a yard. Not shabby, right?
So my friends and I have started to buy batting together. We just divide the roll in four. Naturally, it does take some time to measure it all out and re-roll it. But it sure is worth the price.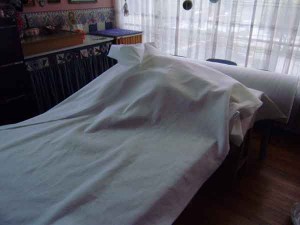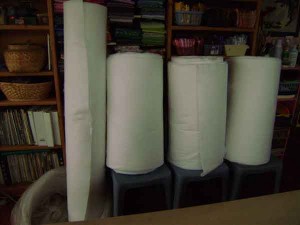 We also discovered a wholesale thread distributor really close to my house, who will sell us single cones of thread. How's this for 10,000 yard cone of  poly embroidery thread for $2 each?
They come in 140 colors. Do you think we should get one of each? 🙂