The only quilting magazine I subscribe to is Quilting Arts. I like the fact that they offer a digital edition –oh, so ecological, in addition to instant gratification– which makes it completely affordable for those of us outside the U.S.

And it is the only magazine I have seen that focuses on technique, rather than on projects. I have drawn enough projects of my own that I will never complete in a lifetime, so I really don't need to be tempted by other designer's lovely patterns. 🙂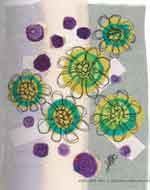 The April/May 2011 edition centers on celebrating spring through floral projects, going from Zen doodle quilts by Laura Wasilowski and digital imagery by Margaret Applin, all the way to a   a wholecloth quilted garden by Christi Beckmann.
I have been doing the happy dance reading the magazine, knowing I just HAVE TO try almost all the techniques included. So I started with an article by Jeanelle McCall and went on to work on my own free-motion stitched wildflowers .
I started with a small sample (6 x 6½"), as a birthday card for my mother last weekend. Oh, so much fun. And from beginning to end the entire process took about half an hour. Wow!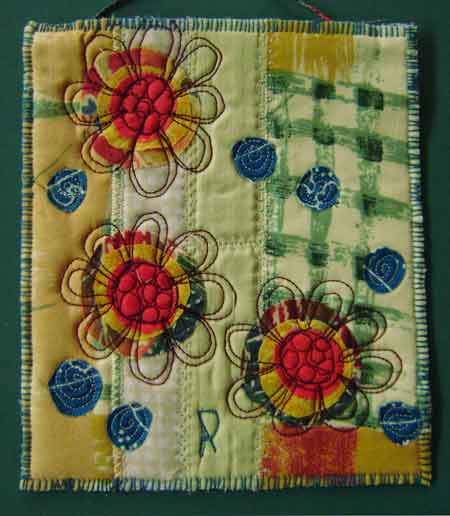 And then later in the week I squeezed in another project, this time a little larger (12½ x 18½"). I still can't wrap my head around the possibility of minimal quilting and no binding, as is the case of the sample in the magazine, so I finished mine off in the traditional way. I also feel these small projects are always an opportunity to practice FMQ… 🙂