This is turning out to be a summer with quite a few visitors. Which is my explanation for why I'm only popping in occasionally these days for a little chat. It's not every day I get to see so many of my favorite people around, so I have to take advantage and spend as much time with them as possible. Fortunately, though, they are not landing all at once. As one leaves, another arrives, allowing for some real quality time.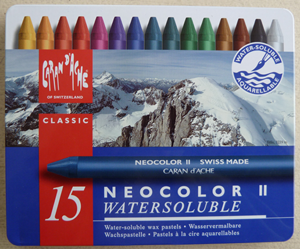 My brother and his oldest son arrived almost two weeks ago. (My brother left yesterday; my nephew will stay on for several more weeks.) And, of course, whenever my brother comes down I ask him to pack a few supplies for me in his suitcase. Something new for me on this occasion was a small box of Caran D'Ache crayons. I saw this technique on one of the blogs that participated in the Spring 2011 Bloggers' Quilt Festival last May, and was intrigued. As you know, I'm always looking for ideas on painting/dyeing fabrics.
The technique basically involves coloring an untreated piece of fabric with the crayons, spritzing the piece with water, and letting the colors run. You can read about this technique in more detail on this blog post. It really takes very little time and I can see opportunities opening up for some experimenting. I've only had time to play with two little samples.
From this…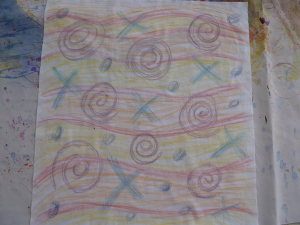 …to this…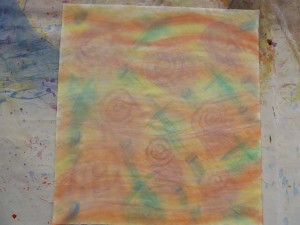 And from this…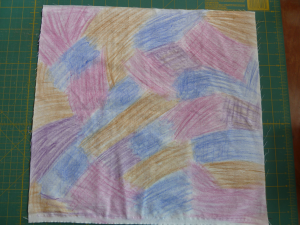 …to this…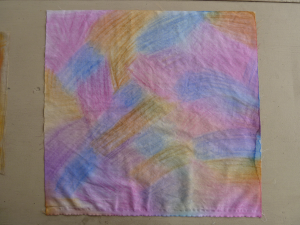 I have heat set the colors. What remains to be seen is if they will continue to run with additional washing. I guess that will determine (and limit) what these pieces can be used for.
Do you have any experience with Caran D'Ache Neocolor II water soluble crayons?