In the three months since I moved, I have done very little sewing. Even after the move, unpacking and organizing all my sewing things was left for the end.
I decided to take over the living room for my sewing space, as it was the largest open area available.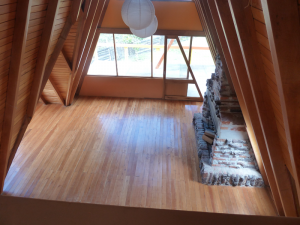 Once again, the slanted walls posed a challenge. Even though the space is (theoretically) large, because of the slant a lot of space is wasted, making the usable area a lot smaller. Although the area in square feet is larger than my old studio, I actually was not able to fit all my stuff in this space, and I had to spill over into other areas. I have a large table I use when I want to spread out and/or where my sewing circle has sat in the past. That I placed in the middle of the room and, because there was no other place, at one end I put a small wardrobe and a bookcase — back to back — with a filing cabinet sandwiched in between. The filing cabinet holds all my printed patterns, and on top of all three pieces I have put my small baskets of scraps and my jewelry-making materials. It looks kind of odd… but that's the way it's staying. 🙂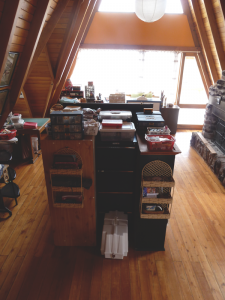 In my old studio I had a whole wall of shelves where I was able to organize my fabrics and sewing supplies in such a way that I could easily see (and find) things. The only option I have had now is to put shelves under the tables and keep things in large plastic containers. This is my main "storage" area, but is still not quite working for me… I feel lost, not knowing what supplies are in what container. So I guess I'm going to have to reorganize this part and label the containers in a way that makes better sense to me.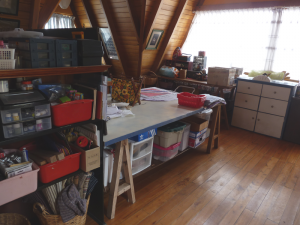 On the left side of the room is this little nook where I have organized my cutting and sewing area. There is a long narrow table under the window, where I have placed all my threads and sewing tools. To the left is my light box and in front of it the ironing board. This kind of works. Except the space is a little narrow and I keep bumping my head on the wall/ceiling when I iron. There are a lot of things on the table that used to hang on a wall, which has been impossible to do in this situation. Still trying to figure out how to make this area better organized.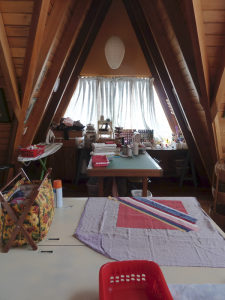 On the other side of the room (by the fireplace), I have placed my industrial sewing machine and another desk for a spare sewing machine and/or serger. What you see to the right is that bookcase plunked in the middle of the room, which holds all my painting supplies and some non-quilting fabrics.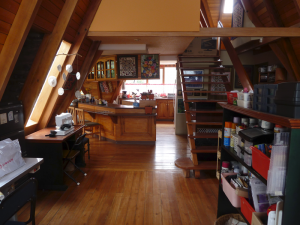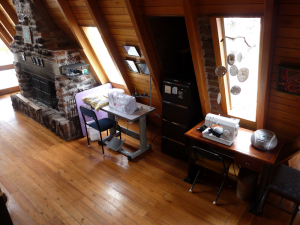 Talking about fabrics, this is probably one of the reasons I feel lost in this space. The only vertical wall in this area is off the living room, in a small hallway leading into the bedroom. So I placed the only bookshelf that would fit there and re-folded my larger pieces of quilting fabrics to fit on these shelves. To the right is a narrow piece of furniture with all these drawers where I keep my trims and ribbons. Not very close to the sewing area, but at least they are put away in order.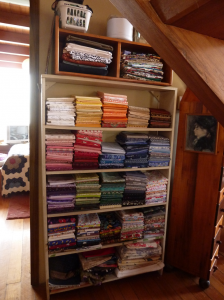 I keep all my fat quarters organized by color in these baskets , which also used to sit on shelves and now live in that small wardrobe in the middle of the room.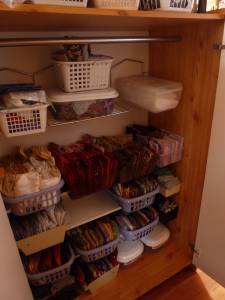 My "office" just didn't fit anywhere in this space, so I had to set up shop on one side of the large master bedroom. This is probably the main reason why I haven't been sewing much. I was used to having my computer in the studio, where I could look up and be tempted into the sewing area. Now I tend to sit and work, and work. Hmm… maybe I should put some project on that desk to tempt me now and then…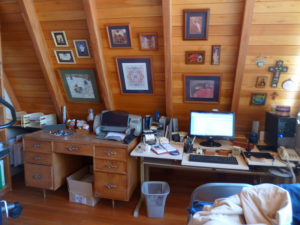 So I told myself this was the weekend to do some sewing and start "owning" this new studio. I figured if I sat down with a small project it would force me to rethink where I need things to be. Perhaps slowly I will start to figure out a new way to organize my things and feel more at home here. I keep reminding myself of other moments in my life where I didn't have any dedicated space like this one, where I had to use a corner of the dining room table and pack things away after I finished sewing. When I look at it that way… this space actually starts to look great! It's just a matter of perspective, isn't it? 🙂