Just when I thought I'd never want anything more than Craftsy and TQS (my favorites) with regards to online learning, I just stumbled on a new website with a ton of fun content to offer.
I'm talking about Creativebug Inc.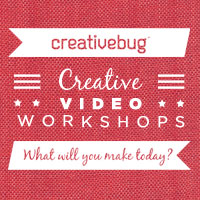 To begin, know it is a different concept  from Craftsy, so I won't even try and compare. What you will find is literally hundreds of craft video  workshops, anywhere from apothecary, bookbinding, crochet, embroidery, felting, home decor, holidays, knitting, mixed media, quilting, upcycling… and more. From what I can see, on average they run from 45 minutes to an hour. You work on a specific project – learning the technique is implicit.
The list of instructors is inspiring. I will just mention some of the names that probably will seem pretty familiar to you: Sue Nickels, Heather Bailey, Amy Butler, Joel Dewberry, and Kaffee Fassett. Oh, yes, and for knitting, one of my favorites: Debbie Stoller.
There are two ways you can purchase these workshops: buy only those you are interested in, which you can watch as many times as you like in your video library. You pay as you go, with no recurring payments. Or sign up for a US$ 9.99 monthly subscription and gain unlimited access to all of the videos. Every subscriber has her own video library, so you can bookmark workshops that interest you and keep track of workshops you watch.
I think this is going to be fun! So these are some of the projects I'm thinking I'm going to get started with: Mini Holiday Hat Garland, Holiday Mitten Garland, Homemade Apothecary, and Carving Rubber Stamps