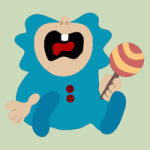 Disappointment: the feeling of dissatisfaction that follows the failure of expectations or hopes to manifest. Similar to regret, it differs in that a person feeling regret focuses primarily on the personal choices that contributed to a poor outcome, while a person feeling disappointment focuses on the outcome itself.*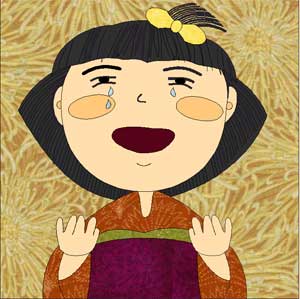 As I ponder the ups and downs of these last eleven years, I can honestly say there has only been one "major" disappointment: not being able to contribute significantly to the Spanish-speaking quilting world. And not for lack of trying, but basically because all that trying actually wore me out.
For over two years we ran a subscription site in Spanish with the exact same content as what we offered in English. And we included a lot of free content, particularly tutorials. Which we would then find on other websites: entire tutorials copied and offered as their own. And in some cases, with graphics hot-linked to our website, which meant our bandwidth was also being stolen. And patterns. With users freely "sharing" the bounty.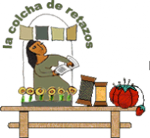 I tried to be patient, as I felt part of my "calling" was to help educate these users. I figured that establishing a personal relationship would help. And it did, in part. But the copyright violations simply did not cease, and working on this website started to feel like a drag. One day, a visitor signed up for the usual yearly subscription to our website, and actually took the time to download every single pattern we offered in one sitting. She then proceeded to file a charge-back, and the payment was returned to her. Hard to believe, right? And then it happened a second time. I felt devastated. In addition, although we had a considerable number of visitors, the main interest was in freebies, and the number of paying subscribers simply was not enough to cover the costs involved in running this website. So we decided to close it down.
Amazingly, most of our Spanish-speaking subscribers actually followed us over to the English website. Several of them are still with us today.  That is what I hang on to. That is what I treasure. And I feel for them, because I know they often have to make a huge effort to deal with the language challenge. (Gracias… ¡las quiero mucho!)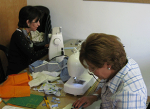 I decided my Spanish language quilting endeavors would have to focus on what I would be able to do locally. Fortunately, that has been a different story. And yes, there have been occasions when someone has offered to share a pattern… under my very own nose! I attribute this to a lack of information. Copyright violations are actually quite common in our countries. However, establishing a personal relationship does make a difference, and the advantage I have had while teaching is that there has been the opportunity to discuss the issue, and explain my point of view. So no complaints there.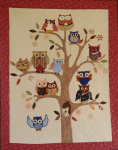 Then a couple of years ago one of my Spanish followers warned me about a blogger who was organizing a stitch-along on her blog, using my Life's a Hoot pattern. I didn't initially think it was anything serious… until I read her post. She had purchased the pattern from an authorized distributor, and was offering to send the file to a list of over 900 people who had signed up for the stitch-along. What was even worse, she was also selling the pattern as a digital download in her online shop… for an even higher price than I myself charge!
I wrote this woman several times, requesting she desist from using my pattern for her stitch-along, and offering her another free one instead. I also asked her to take the pattern down from her shop. No answer. Jared and I discussed the matter, and finally decided this was one case that we just couldn't ignore. So I ended up hiring legal counsel in Madrid to help with the matter. A formal cease and desist letter was sent. Counsel also advised that under both the CAN-SPAM Act and the EU Directive I could take screenshots of the posts where this blogger offered the pattern (including my graphics), to legally harvest the e-mail addresses of the eventual recipients of the pattern and to use them as proof if the issue were to escalate to a suit. I sent out a one-time non-commercial e-mail to the list (what is known as a transactional or relationship e-mail, in case you ever find yourself in this position), explaining that the stitch-along they were going to participate in involved the use of a pattern of mine that the organizer was not authorized to use in this way.
The legal notice worked. The blogger took down the pattern from her shop, and deleted all posts related to the stitch along. Except for one, where she announced that she was canceling it because "the designer does not wish to share her pattern." Comments on this post of hers were as varied as the responses I received. (And eventually she deleted that post, too).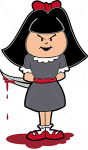 Some people flamed me. Some were seriously mad at me. Many called me selfish, and told me the spirit of quilting was to share. In one of the worst messages, one woman told me quilting was such an expensive hobby, where fabrics and quilting materials are costly, and how her country had been facing a terrible economic crisis that made practicing this hobby practically impossible. At the very least, quilters should be able to enjoy free patterns. I held back as much as I could, and limited myself to suggest that perhaps she could go to her quilting shop and request they give her the fabrics and materials she needed for free.
Admittedly, this is the absolutely worst situation I have had to face in these eleven years. And I still need to remind myself that these awful messages were but a drop in the bucket, compared to all the positive messages I also received. The point here… is the hurt. I struggled not to take it personally. But yes… these things hurt.
It happens in the English-speaking world, too. I know… shocking, isn't it, that quilters are actually human and thus apt to be mean sometimes? And no, it doesn't happen that often. Perhaps that is why, when it does happen, it comes as a shock. I tell myself it's not about me, but the person is having a bad day and most probably would never say some of these things if we were talking face to face. I will admit, though, that I find it very, very hard to deal with aggressive messages. It feels like a punch in the stomach.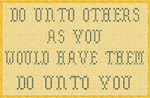 I tell myself I am a grownup, and there is something to learn from these experiences. Ah, yes… some call it the Golden Rule. I remember hearing this a lot when I was growing up… not so much lately. I wonder why that is. Could it be that in this Age of the Internet, relationships have become so completely anonymous we forget there is an actual person on the other side? If we could see him or her, would we actually talk that way? So instead of feeling hurt, I strive to experience these moments as valuable lessons. May I remember how it feels, and be compassionate in the way I myself deal with others.
And may I never forget you, my kind and gentle followers. May I always treasure and celebrate your encouraging and uplifting words. Thank you.
P.S. Jokes make me happy, too! 🙂