I am truly living my dream.
Moving out of the city to a small town is what I wanted to do for years. It took some time and a couple of moves before I was able to build and move into my new home in a small town that still keeps its rural roots.
Naturally, it takes time to adjust to any change, even when that change is desired. The last three years in my beautiful home have been wonderful… but it's taken some time to adjust my city-living habits to embrace the local life.
Living locally makes sense. Small town living has allowed me to relate in a more personal manner with neighbors and those who provide me with services and supplies. We know each others' names. This is so different from city living. And then there is the benefit of more economic prices, and better quality, particularly of food items.
There is a small store where I am now purchasing all my dry goods and dairy products. We call it our local "supermarket." 🙂 Best of all is being able to purchase fresh produce at incredibly low prices.
This was what I purchased yesterday… for only $8.00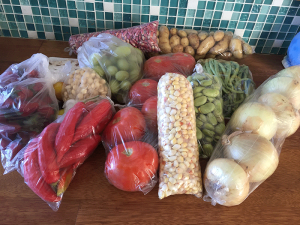 Local, organic eggs… $3.50 for 30 extra large eggs.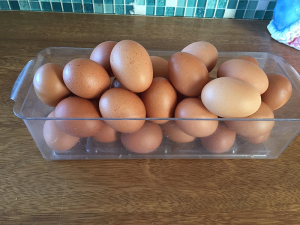 These foods actually taste great, so much better than what we can purchase at the supermarket at higher prices.
Ah…. life is good!