I don't feel comfortable when reading "ranting" posts. I would much rather focus on the positive than on the negative. And if bothered by something, I think acting –doing something– tends to be more constructive than complaining. So please bear with me –and forgive me– for what I am now about to do. Believe me, it goes beyond simply letting off steam.
Being part of a community
Soon after I started my first website I was invited to participate in a small online group of international quilters. What a blessing! My induction into the online quilting world was such a positive experience, and I was to benefit from friendships with other women all around the world. We shared each others' stories, we played games, we swapped blocks, we carried each other in difficult times, and celebrated small and large successes together. That was twelve years ago, and I will always credit this group as the place where I was taught the spirit of quilting.
Since then I have had several different quilting websites, have moved into the professional side of quilting, have made even more friends and –quite, quite unfortunately– have also lived through some (shockingly and quite unexpectedly) negative experiences. That doesn't mean I have gotten used to discrimination and what sometimes feels like insensitivity. Does one ever?
If you have followed my interviews with several international quilters, you will be aware that many of us who have taken up this activity in other countries do so in isolation and facing many challenges. If and when we find fabric, it is in small quantities and with little variety. Tools and other supplies are practically non-existent. My personal take on this is that it is a blessing in disguise, as it challenges us to be even more creative. And for so many of us, the online quilting community has been the only place where we are able to meet with other quilters.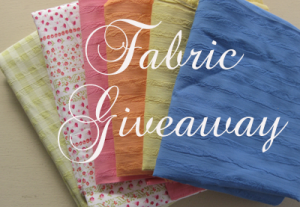 Over the past couple of years I have witnessed what would seem to be an explosion of quilting blogs. That's exciting. It breaks down borders even more, and brings us closer together. And it seems that particularly over the last year or so the use of giveaways has been a way to attract more and more visitors to individual blogs. (I'm starting to feel giveaways are extremely overused… but that's a subject for another day.) What many quilting bloggers may not be aware of, however, is that with very rare exceptions these giveaways tend to isolate already lonely quilters in other parts of the world.
Feeling left out
The reason given for limiting these giveaways to U.S. residents –quite understandably– has to do with postage. Believe me… those of us who live outside the United States are very well aware of the high mailing costs. If you think it is costly to send packages from the U.S. to other countries, it is even costlier the other way around. Ask me how I know this. And yet… it is often not about the $$$, but about participating in and building a community.
I myself have been fortunate in having enough people visiting throughout the year to be able to order supplies and have them brought down to me. By U.S. standards, my fabric stash and the tools and supplies I have at hand would probably seem meager. My friends and students, however, are in awe of my studio and my quilting "wealth." (I actually tend to agree! It IS a matter of perception…) I personally do not participate in giveaways because I feel I have my own means of obtaining supplies and would rather give other quilters a chance. Still, whenever I read those words –U.S. residents only– I feel like I've been kicked. I'm sorry to put it so bluntly, but this is how it feels: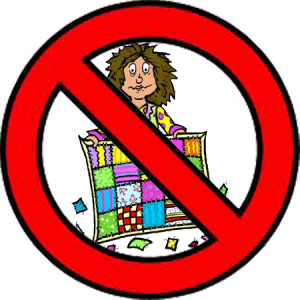 The quilting community is known for its generosity. And I am not here to berate other quilters, but to simply share how they may unwittingly be hurting the feelings of fellow quilters in other countries. And to ask that they consider –only every now and then– to open up and include other countries in their giveaways. Maybe instead of two different giveaways, consider doing only one and giving a wider audience a chance.
A word about "open to U.S. and Canada…"
I do see that there are many giveaways open to Canadian visitors. That's wonderful. It does cost a little more to mail packages to Canada, but I guess it's within reasonable limits. And so I would say that if opening giveaways to other countries is simply unaffordable, at the very least consider opening them up to Canada and Mexico. Mexico is part of the North American Free Trade Agreement (NAFTA). What this means in terms of postage… is that it costs just a few cents more to mail a package to Mexico as compared to Canada.
Last, but not least
I do have to applaud those quilters, both in and outside the United States, who do not limit their giveaways. This is not an insignificant gesture. I am convinced that the understanding between peoples –and the building of peace, if you like– takes place primarily through these *small* yet meaningful exchanges. Kudos to you all. 🙂
***********************************
Enough. I'm getting off my soapbox now. But this is not a monologue. I much prefer an open dialogue. What am I overlooking? What is your experience? How do you feel about this issue? What can you add or expand upon? I'm not the only one wanting to know… let's all build some understanding together!