Boy, this has been a busy week, getting files prepared for posting and images all in order. As a reward (that's how I see it), my *baby* brother is in town for a visit. Which was one of the reasons why I wanted all my patterns for this month finished and ready to go, so I could take some time off and visit with him!
I already gave you a sneak peak of what I posted yesterday as our Day 1 project: our traditional Christmas BOM. Gingerbread Cheer IS a free project. This means the installments can be downloaded for free each month (posted the first week of each month). When the month runs out, however, and the next one is posted, the previous ones remain available for members only.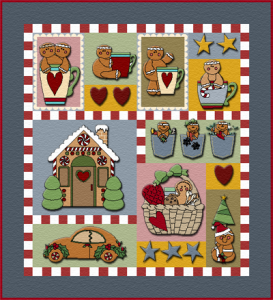 Day 2 consists of a really easy table runner. I really like quick projects like this one, with a little touch of "something special." By now you have probably noticed I LOVE dimensional projects. The 3D flowers on this project are really easy to make, and just give an added pop to the table runner.

I'm sure hoping you will be joining in the fun. I LOVE ALL THINGS CHRISTMAS, so besides December, July is my other favorite month of the year!