I had never heard of Spritz cookies until I married into a Swedish family, way over 30 years ago. My mother-in-law – a phenomenal cook and baker – introduced me to these cookies and handed down her recipe. With my love of almonds, I quickly found them addictive. So did my brother David, and this was to become his favorite cookie. So much so that while we were both in college – I in California and he in Florida – I fell into the habit of baking these cookies every week to send in his care package.
For over thirty years, then, these cookies have always been a part of our family tradition, in the very shapes shown below: hearts, trees, flowers and butterflies.
Spritz
1 ½ cups butter or margarine
1 cup granulated sugar
1 egg
2 tablespoons milk
1 teaspoon vanilla
1 teaspoon almond extract
4 cups sifted all-purpose flour
1 teaspoon baking powder
Colored sugar
Thoroughly cream butter or margarine and sugar. Add egg, milk, vanilla, and almond extract; beat well. Sift together flour and baking powder; add gradually to creamed mixture, mixing to a smooth dough. Do not chill.
Force dough through cookie press onto ungreased cookie sheet. Sprinkle with colored sugar, if desired. Bake in hot oven (400°) about 7 to 8 minutes. Cool. Makes about 5 dozen.
***************************
I always make (at least) a double recipe of this cookie, working in two separate mixing bowls at the same time.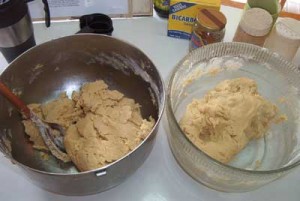 Once the dough is mixed, I divide each bowl into another two for the food coloring.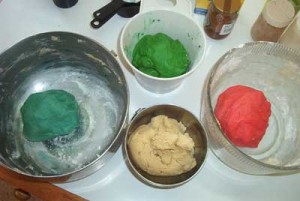 Be prepared: the fragrance from these cookies is sure to summon the family to the kitchen. A pot of coffee for the big ones and glasses of cold milk for the little ones will certainly come in handy!