This was an extra long holiday weekend. As throughout all Latin America, Nov. 2 was the Day of the Dead or, as known locally, Finados. And then Nov. 3 is the day in which we celebrate the independence of Cuenca, the third largest city in Ecuador and the second one – along with Quito – to be included in the UNESCO list of World Heritage Trust sites. Lots of people leave the cities, which means that for those of us who stay things quiet down quite a bit.
In Ecuador, the Day of the Dead is observed widely by all parts of society, and is a true syncretism of the indigenous culture and the Christian (Catholic) religion brought to this region by the Spaniards. This is a day where people traditionally visit the cemeteries to bring flowers and pay their respects for their departed loved ones. In indigenous communities it is a day-long celebration, where families gather together in the community cemetery with offerings of food for a day-long remembrance of their ancestors and lost loved ones.
And, naturally, there is traditional food. This is the time for the colada morada, a spiced fruit porridge that derives its deep purple color from the Andean blackberry or mortiño and purple corn, in addition to other ingredients from the region. This is typically consumed with guagua de pan, which is bread shaped like a swaddled infant, which often has some filling like cheese, or sweet guayaba paste, or even chocolate.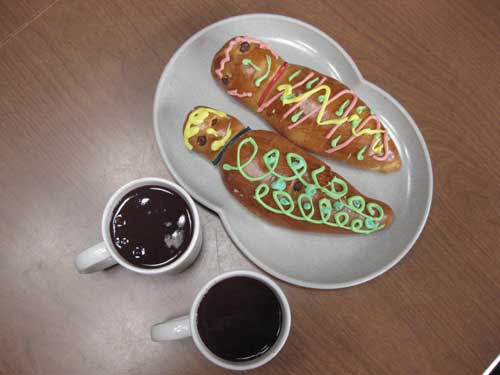 More than the bread dolls, I absolutely love the colada and wouldn't miss out on the opportunity to have some. It's preparation is quite involved, so I've never made it, but buy it at one of our neighborhood bakeries. This year's was really very good. Yummy!