As I have mentioned before, I love quinoa. So I made one of my favorite dishes today and thought I would share the recipe here. (So sorry, Irene, that quinoa is so expensive in your country!).
First the recipe, and then some pics to explain the process…
Crustless Asparagus-Quinoa Quiche (Serves 10)
12 asparagus spears
2 tbsp butter or margarine
¼ cup thinly sliced scallions (use some of the green)
2 tbsp chopped pimento
½ tsp dry basil leaves
pinch of nutmeg
¼ tsp white pepper
2 cups cooked quinoa
¼ lb. shredded Swiss cheese (1 cup packed)
¼ cup grated Parmesan cheese
4 eggs, lightly beaten
1 cup milk
½ cup whipping cream
salt
Remove tough ends from asparagus. Cut 10 asparagus 3-inches down from the tips and parboil 3 minutes. Cut remaining asparagus in ½ inch pieces. Melt butter or margarine in a skillet; add chopped asparagus and sauté for 5 minutes. Add scallions, pimento, basil, nutmeg and pepper; sauté stirring for a couple of minutes.
In a large bowl mix the sautéed asparagus with rest of ingredients, seasoning with salt to taste. Transfer mixture to a well buttered 10-inch quiche pan that has been placed on a round pizza baking sheet and bake in a preheated 400° oven for 25 minutes. Remove from oven and arrange asparagus tips on top in a spoke fashion, pressing down a little. Bake 15 more minutes or until quiche browns and puffs. Let quiche cool for a few minutes before cutting into 10 wedges. Quiche can be prepared 1 or 2 days ahead and reheated in a 350° oven for 20 minutes.
*********************************
My comments on this recipe…
Since I often eat alone, I tend to halve recipes, which was the case here. I also prefer fresh basil… about 2 tbsp. fresh.
I steam my quinoa first, while chopping and preparing the other ingredients: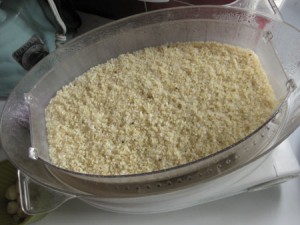 Then prepare the veggies…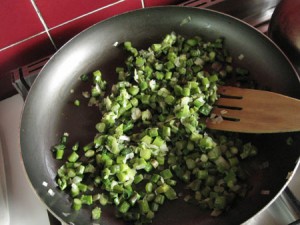 And then mix all the ingredients together…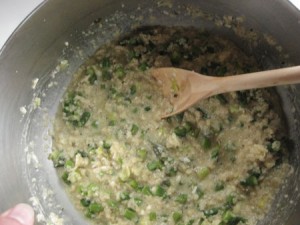 Since I halve the recipe, I then bake the quiche in two small loaf pans (about 6 inches long and 3 inches wide). This gives me four servings, two per loaf. Don't my little loaves look yummy?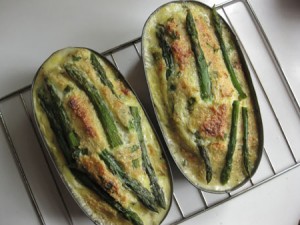 And serve hot with a salad. Today's was cucumber with sour cream and dill. Mmmm!