Among the many reasons why it is so much fun to have the kids here this summer is because every day there is something crafty going on. These kids are good for me in that way. Yesterday was a particularly crafty day, after the shaving cream fabric dyeing and flower pounding with Julian in the morning, and then some more crafty goodness with Alexia in the afternoon. Added to that, these kids are fun to knit and crochet for, as their requests are always for something odd and extravagant. More about that later. 🙂
Alexia and I spent part of the afternoon making some fabric bangles. Which was a reminder for me that it is time to start building up the gift closet again in preparation for Christmas. Fabric bangles are a real favorite among girls, young and old. So while the supplies are out, I think I should make a whole bunch of these.
Alexia put three of these bangles together in less than half an hour.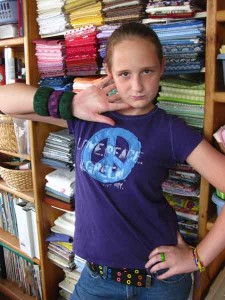 They look pretty cool all in a row, don't they?