Ready for some eye candy? Looking for some inspiration? Willing to be challenged?
Twelve by Twelve is a collective of –yes, you get it– twelve quilt artists who decided a while back to take on an art challenge together. Every two months or so, they each make a small quilted art piece which –of course– measures 12 x 12″. Their challenges follow a designated theme or color palette, and they come together on this particular blog to share their process and results.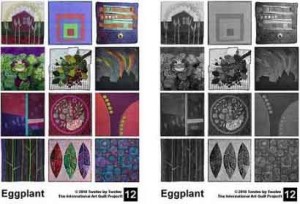 In addition to checking out their collective galleries, don't forget to follow the links to each individual artist… there's LOTS AND LOTS to see! And while you're at it, take a look at their book (out in March 2011)!