Let's face it. We tend to accumulate. Fabric, threads, batting, stabilizers, embellishments, books, magazines, patterns… and on and on. And we can just as easily get disorganized with all the "junk" we set down here or there in our hurry to get on with the sewing.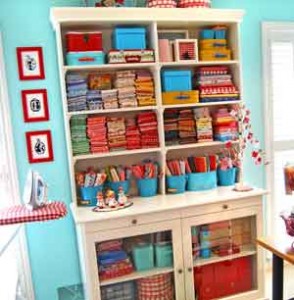 Crafty Storage is one pretty cool blog, chock full of storage and organizing ideas. If you click on the "fabrics" link of her Storage Ideas sidebar, you will be taken to several posts on some really fun sewing studios. That in itself is worth a visit to this blog. After all, we are always looking for practical solutions when it comes to organizing our fabrics.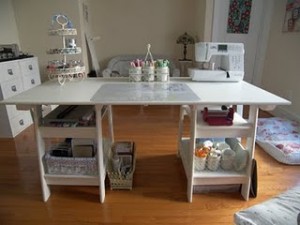 You will also find several wonderful posts on how to organize your sewing space. Once again, plenty of links provided to other blogs with lots of photos and ideas on how to organize a sewing space.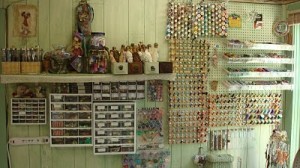 If you spend some time on this blog, you will discover that most of the storage ideas seem to relate mainly to scrapbooking. Don't let that distract you… Look very carefully, and you will find that many of those ideas can easily be applied to storage solutions for your sewing tools and supplies.
Enjoy!