It's been well over a year since my sewing circle last met. Not only did I move out of the city, but it seems the rest of the members also ended up scattered, and coming together once a week became challenging.
After the move it did take me some time to get back into sewing. I kept getting calls about going up to the city to teach, but resisted all year basically because I just haven't wanted to deal with the traffic anymore. A few months ago, however, my niece Ana Lía started coming over every week to continue perfecting her quilting skills. She lives in the same valley as I do, and even though it takes about half an hour to drive over at least the traffic isn't insane. 🙂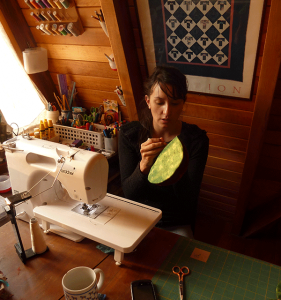 Fortunately for me, she has accepted taking over my beginner classes. So we have been working together towards that, making samples for her and preparing materials. After she takes over these classes maybe I'll be inspired to start preparing some intermediate and advanced classes. We'll see. 🙂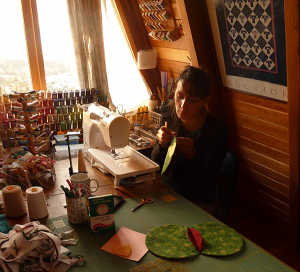 In any case, I have a sewing companion again. Since we meet on a regular basis, I think we're entitled to consider ourselves a bona fide sewing circle.
This week we decided to take a break from sewing class samples to make a just-for-fun Christmas project. Obviously, there was a learning component for Ana Lía, as we focused on some faux cathedral window units (with a spin) and a little thread quilting/painting. We made several units, and played around with settings for a table runner.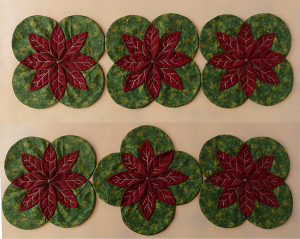 And, in the end, we ended up with this one. Hmmm… think I should prepare a tutorial for this one? What do you say?