Although as a family we make an effort not to fall for the commercial traps surrounding the Christmas season, I have to admit I do like to give gifts. Even in this, though, I strive for simplicity. And the few gifts I do give have to have a personal touch. This year I was quite thrilled to find these wonderful ceramic mugs in these really cool colors. So I made matching coasters, and filled them with a variety of packets of tea – as a tea lover, I have a whole cupboard full of different varieties, so it makes sense to share of what I like with my friends. Now, aren't these cool mugs?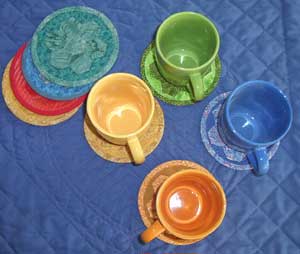 And, as a rule, I only wrap with fabric. So I was thinking of making a whole bunch of  these Boxy Gift Bags. Then I remembered one of my sewing buddies gave me several boxes of samples of cording she distributes: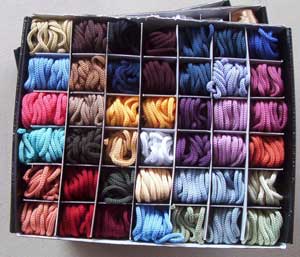 So instead I decided to make simple drawstring bags using Christmas fabrics. I made little fabric beads for the ends of the drawstrings, plus some cute fabric tags and… voilá! I think these make cute little gifts.