Once again, I have to admit I'm not a very consistent blogger. Granted, in the big scheme of life my little corner of the world might seem pretty tame and to some perhaps not much to write about. In my book, however, each day brings new learning and growth and so much to do I tend to get distracted. So I forget to blog. Oh, well, that's just me.
There have been classes, which are always fun. And the last week the visit of a friend I hadn't seen for 26+ years! Even more fun. Of course, I haven't taken pictures. Now is the moment I remember and would take them, but he's gone out of town for a couple of days…
And there is always time for drawing and more drawing. As I finished my latest pattern (Snow Angels) I couldn't help but reflect on how much I really enjoy my life. I get to do exactly what I want to do, where I want to do it, and whenever I want to do it. It occurred to me that even though I hope this is waaaaay down the line, I know what I would want my epitaph to read: "I had so much fun and it was far too short. May I please to this again?" Hmmm… then I started to wonder… considering I want to be cremated, where would this epitaph go. Maybe I should have it engraved on my sewing machine… Don't get me started on weird thoughts.
The one thing there never seems to be enough time is sewing. Although lately I have been able to make a little more time (I've cut back on teaching). So over the past week I began to quilt my Hibiscus wallhanging. I actually started to machine quilt it, but after two anchoring lines I decided I didn't like it and pulled the stitches out. Sometimes I just can't help it: I am drawn to the softness of hand quilting and particularly to how relaxing this process is for me. In the end, what's important to me when I quilt isn't now many quilts I make, but how much I enjoy the process. And working by hand is truly a spiritual exercise for me: I slow down, turn inwardly, relax, meditate, and…breathe. And, ok, I'll admit it. I really AM proud of my tiny little stitches!
I also finished making a whole pile of Valentine Hearts – sooo much fun!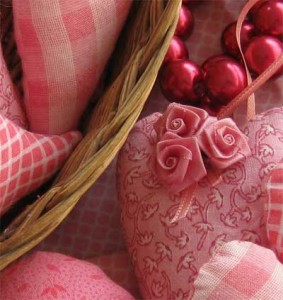 And right now, in addition to the Heavenly Angels series, I've been working on the Country Cups BOM and on my miniature GFG. I know I have UFOs I should also get around to, but these current projects are just too fun. I think I need another lifetime…