The kids have gone to the beach with their dad over what is a long holiday weekend here in Ecuador. So it's been quiet… just Jamie and me. Nice, as we enjoy these last few days together before her departure this upcoming Sunday.
I've been putting together and/or finishing several sewing and knitting projects Jamie has asked for, to help her on her trip and over the next year ahead, particularly for the winter months. Get this: Jamie has never seen snow! Well, living in Massachusetts will certainly expose her to cold and snow, wouldn't you say?
I put together a little travel "wallet" for her. Since she's travelling with two kids plus their dual citizenship, that's quite a few passports she has to carry. This way she can keep them all in order and on her body, leaving her hands free for grabbing suitcases and/or kids.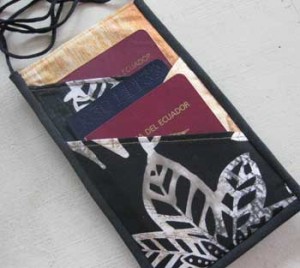 Jamie also wanted a little camera case in her favorite color, so I quickly put this little case together this morning.