Over the past year and a half, every time my friend Mariangela has traveled either to the U.S. or to Italy, she has brought me back some very interesting sewing supplies. For many of you, particularly in the U.S., these materials might probably be well known, as they are readily available in the U.S. market. For us, they are quite a novelty, so these gifts have been quite exciting for me and so very well received.
I decided to play around yesterday with this special shrinking fabric. Mariangela brought me several meters of two types: one shrinks by 15% and the other by 30% when activated by steam. I did an online search and found Superior Threads puts out this product, under the name Texture Magic. This isn't the exact same product that Mariangela gave me – it is wider than the Texture Magic. In addition, she brought these two different types. Texture Magic shrinks by 30% and I wasn't able to find any other similar product.
In any case, it looks like a shiny, slippery polyester fabric. The 15% shrinkage one actually looks very much like organza: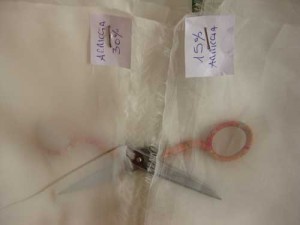 So I started playing with the two different fabrics, with some interesting results. I first started by layering the shrinking fabric between two cotton fabrics, and sewed the layers together in a 1/2″ grid. The samples were about the same size.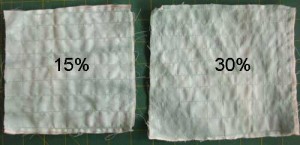 After steaming (the iron should not touch the fabric), I wasn't too terribly impressed with the shrinkage on the left piece (15%). The shrinkage on the other piece (30%), however, was amazing. I thought "easy shirring!"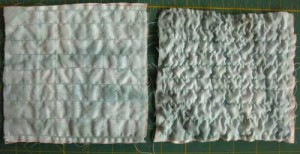 I then tested with another two samples, using batting and some free-motion quilting. I still like the 30% shrinkage better, but in this case I also liked the 15% one, as it added a subtle extra "poof" to the quilting.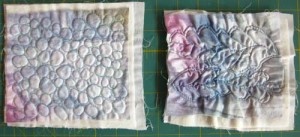 All in all, a really nice product. I am looking forward to using it in future projects. I'm thinking especially… BAGS!!!