I decided it was time to start dipping into those fabric samples and make something fun. The truth is, I am still ironing the last ones and realized I wouldn't be able to get the lid shut on the plastic storage box. I am certainly not going to try to find another place for them… it is time to use them up!
I also recently decided to pitch the everyday placemats we've been using for thirty years! So here is what I've come up with: quilt-as-you-go, reversible placemats. They are super, super easy to make. I made a set of six in about 45 minutes. And although my samples are pretty wide (anywhere from four to six inches wide), you could use narrower strips for yours. This is a great way to use up all those narrow strips left over from rotary cutting.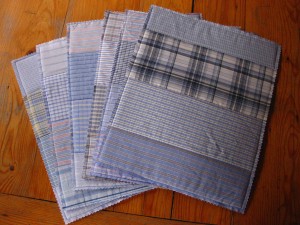 For the complete tutorial on how to make these placemats, go here.