Whenever asked why I quilt, the answer that comes out right from the gut is: "Because I have to." There are so many other activities in life that I thoroughly enjoy; quilting is something beyond even that, an expression of self… And then there are all those other many (and valid) reasons: I love fabric, I love playing with color and patterns, I absolutely thrive on drawing and designing.
A few days back I finished quilting Julian's orange and turquoise quilt (I think they're my new favorite colors!). And I have been lucky to be able to watch him enjoying the quilt these last few days. I love the pieced design, I am absolutely thrilled with Julian's choice of fabrics, and I think I hit it with the simple quilting design I chose. I love everything about this quilt.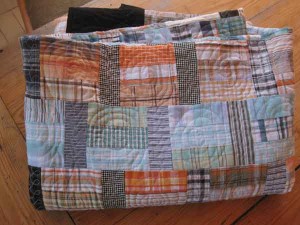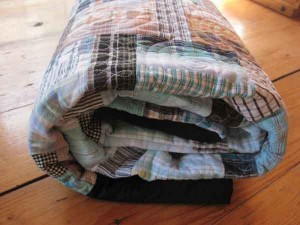 And then, when I snuck in to Julian's bedroom yesterday morning to take pics of him sleeping under his quilt, it dawned on me that this is the reason why I make BED QUILTS! Need I say more?
As I told Julian, this is my way of wrapping him in my arms and holding him close. And that is the reason he gives me for dragging the quilt around wherever he goes.
He gets it. 🙂