This week I've been working on a new quilt. It's all pieced and today I was ready to start machine quilting it. I had a pretty good idea of how I wanted to quilt it, but wasn't quite sure about what color thread to use. Time to audition a few.
The quilt uses 4½" squares, and I had several left over. So instead of using random scraps, I decided to use these squares – I even had a long strip of batting and backing left over from the quilt, so it all worked together. I tried several threads and made up my mind to go with the white. Of course.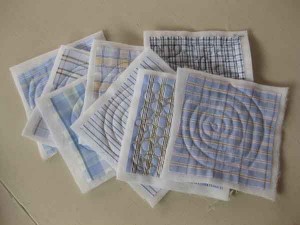 Now what to do with these small quilted squares? I didn't want to spend too much time on this, but I don't like these odds and ends to pile up either. So I pulled out my Olfa circle cutter, and cut the quilted squares. I just zig-zag stitched the edges on several of them; on others I satin-stitched. The edges did wave a little, but I just pressed them with a little bit of steam and… voilá! Instant coasters! You can never have too many of them, in my opinion.