Starting today, I am going to be sharing some of my favorite "finds" from my Internet travels. These will not always be strictly quilt-related, although there obviously will be a lot of that. I am always amazed at the wealth of information this technology has made available, right at our fingertips, and hope that some of the blogs and websites I am able to share with you will be of inspiration, too.
Sara Rivka is the author of Creative Jewish Mom, and is she ever one talented woman! I have been following her for about six months now, and she has definitely been my #1 source of inspiration when it comes to crafts to make with the kids. Or without them. 🙂 I especially have enjoyed her ideas and tutorials that involve repurposing materials.
One of our favorite projects this past summer involved empty toilet paper rolls to make some fun wall decor. We also spray painted some of the individual flowers/stars gold to use as Christmas ornaments.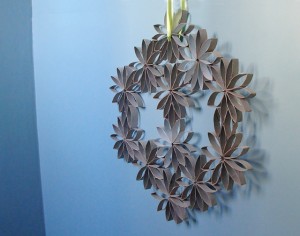 And who doesn't like to make rolled paper beads? These can certainly be addictive!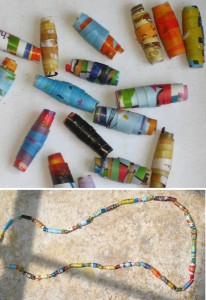 And, of course, wax paper mobiles.

She also has a ton of  fabric/yarn/textile projects. Here are some that I'm thinking I have to try out… sometime. 🙂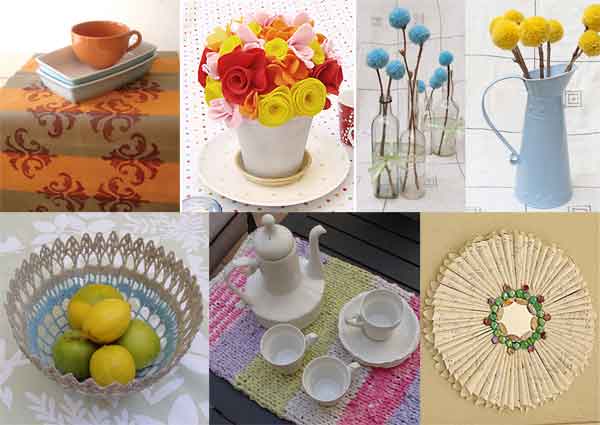 1. Quick decorative projects with foam stamps
2. Felt flowers
4. Lace bowl from a crocheted doily (ok, so this is definitely #1 on my list!)
5. Knit table runners, made out of rags
6. Book page sunburst mirror (isn't this stunning?)
And the list goes on and on. But I'll let you see for yourself. So kick back with a cuppa something and prepare to spend A LOT of time being inspired by the Creative Jewish Mom.