You've heard the expression… "Every cloud has a silver lining." So that's my motto for the day!
I'm having some technical problems here with my graphics and layout program setup, so am not able to work fiddle around with graphics and texts, etc. to be able to lay out my pdf files. Which means at the moment I'm kind of stuck with work. Sigh. I have to wait until my techie son Jared can resolve these issues for me, on top of his own busy schedule. I guess the option is just to keep playing with EQ7 and drawing some more. Or I could just do some sewing, right?
In the meantime, I did manage to open up Paint and tweak two images to be able to share here. I know, I know… it's the most basic of graphics programs, but would you believe I've never used it? It doesn't do all the "fancy" things I need… ha, ha, ha!
So here's a little project I put together over the weekend, using the sample from this month's dimensional flowers BOM. Naturally, this close to Christmas, it had to be a poinsettia. So I quickly appliqued a trio of candles, plunked the flower on top, and I have a little project ready to hang for the season!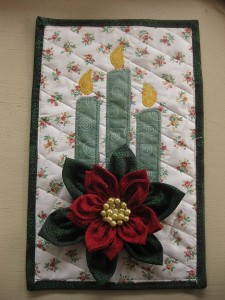 UPDATE: Wouldn't you know it… it's a couple of minutes later and Jared has already resolved my problem! Now what do I do? Work or sew? Work or sew? Sew? Maybe for half an hour? LOL