Our sewing circle met again today… and yet I forgot to take photos. This week everybody decided to leave the afghans we are crocheting aside, and work on them in the evenings, as it isn't as hard on the eyes as sewing is. Thursdays, therefore, will be dedicated  to working on the Insane About Baltimore BOM.
I am making an exception here with my friends and have gone ahead and given them an entire set of patterns for this BOM, so they can jump ahead. And the reason for that is because they will be the judges for the two little contests we will have this year for those of you doing the miniature version of this quilt. And I figured they should understand exactly what the work involved entails.
I myself have finished half the quilt. Rather, I have the first 6 blocks already joined, plus an additional 2 that I finished during the week. Today I finished two more. I'm not in a hurry – other than I don't want to set this project aside because it could easily become a UFO otherwise. So maybe I will be able to finish it within the next couple of weeks.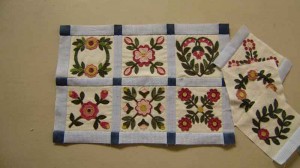 UFOs happen to easily. And it turns out my friends are almost as bad as I am about this. They were all working on the owl BOM until just before Christmas, and have set that aside as they got caught up with the crocheting projects and now the IAB BOM. The exception is Bachita… her project is finished! I didn't have enough space to back away for a good photo, but this gives you an idea of what the finished project looks like. Way to go!