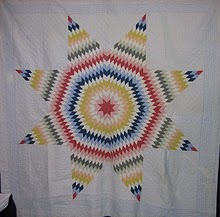 One of the most exciting things I have seen happening during the last few years is how quickly quilting is catching on among younger generations of quilters. Generation X and Generation Y quilters certainly make a strong statement with simple yet very bold and colorful designs. I thoroughly enjoy visiting the blogs of many young, contemporary quilters, and occasionally have allowed myself to try out some of these designs myself.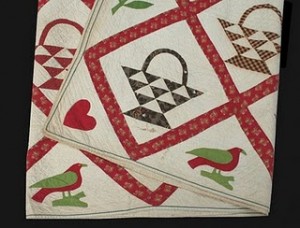 I must admit, however, that I will probably always gravitate first toward traditional quilts. After all, it was a love for "old" designs that turned me on to quilting in the first place. And a large part of that interest lies in the stories behind many of these quilts.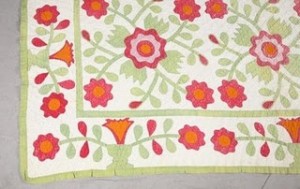 Today I would like to introduce you to Sandra Starley, a professional quilt appraisal. Her blog —Textile Time Travels— features a really interesting collection of antique quilts, with interesting insights on each one. (As an appliqué lover myself, I am naturally drawn to all the appliqué quilts she shows.)
So for this one… pour yourself a cuppa, sit back, relax, and prepare for an interesting time for eye candy and learning!