The cost of 100% cotton fabric at our one and only LQS went up almost 30% last month. And, quite unfortunately, they don't import batiks or any of the other "mottled" fabrics I find myself more drawn to lately. So I'm really looking into more economic (and fun) solutions when it comes to replenishing my fabric stash.Fabric dyes are also not easy to find, but textile paints are more readily available. (I was quite delighted to discover a couple of weeks ago that my favorite stationer's is importing Setacolor textile paints. Yay!)
So imagine my excitement today when I read this post on Judy Coates Perez' blog about how she prepares colored painted fabric for her workshops, using textile paints.
She just mixes and dissolves paints in a pan, dips crumpled fabric into it and lets it sit until it dries.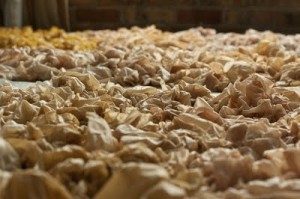 And then irons it. Isn't this absolutely lovely? Just had to share!