And a few sequins to boot. The last few days have been taken up by pretty mundane tasks. (And a girl has to work, after all!) So my little quilt was moved to the back burner for the time being. But I was able to make a little time last night to attach the yo-yos, and this afternoon I carved out some more time to add some beading and sequins.
As usual, my photographing skills leave much to be desired, as the real thing looks so much better! I'm really liking this piece.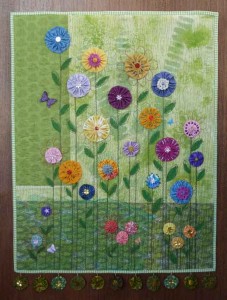 I hand painted the fabric (loads of fun), and to give some added texture on the lower part I used one of those plastic mesh bags that fruit comes in. I really liked the effect. I also used some itty bitty crocheted motifs on some of the flowers. Altogether a fun, fun project. Here are some closeups. I particularly liked the texture achieved as a combination of the painted fabric and free motion quilting.