I am a really, really lucky person. Take my quilting friends, for example. As you know, I have a small sewing circle that meets every week. The women in this group were once my students, but after learning the basics they just sort of attached themselves to me (and I to them) and we developed a friendship now six years old. As my own skills continue to grow and develop, so have I been able to see the growth of each one of these wonderful gals.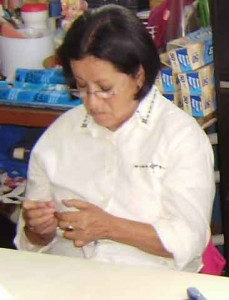 My friend Bachita is a good example of how a student can quickly surpass her teacher. We are all appliqué lovers, and we all have our favorite techniques. Bachita is a perfectionist. And although she owns one, she is certainly not very attached to her sewing machine. She would rather take her time and work by hand. Yet her stitches are so perfectly even, you could easily mistake them for machine stitches. Except for the fact that you would never be able to achieve such tiny stitches on the machine without fraying.
Here is her latest wall hanging. Her choice of fabrics is simply wonderful, and her eye for detail exquisite. Once she finished the appliqué she asked me to machine quilt it for her. So here it is, already quilted and with the binding attached, ready for her to hand stitch it to the back.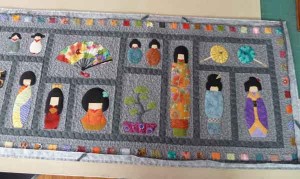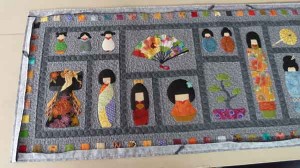 The piece is rather wide, so I had a hard time getting a picture of the whole piece, with no one here at the time to hold it up for me. I did crawl up on a chair for a rather wobbly picture. Sorry about the blurriness, but it gives you an idea…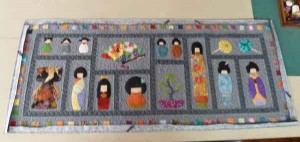 The piece in itself is wonderful. But what I really wanted to show you is her stitching. Bachita's favorite technique is blanket stitch. Just click on the photo below for a bigger view. And then tell me, aren't those stitches just awesome?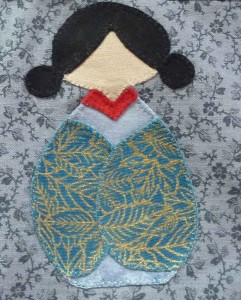 After finishing her Japanese girls, she got started on a new project right away. This is the beginning of a quilted basket: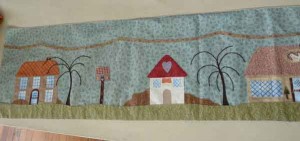 And, once again, close-ups of her perfect stitching:
You might recall some of Bachita's previous projects. Here's a reminder:
I love my friend. She is such an inspiration. 🙂