I came across a little project that combines itty bitty scraps with Christmas! And it involves two favorites of mine… circles and trees!
Basically, you cut different circles in different sizes out of scraps of fabric, fray the edges a little, stack them together, hold them (stitch) all with a button…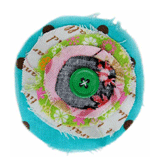 …and tack them onto a styrofoam cone with a couple of pins.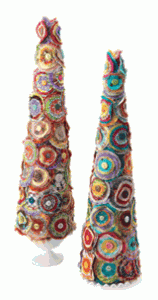 You can find full instructions for this project here, on the Quilting Daily blog. How cool is that?
These little trees reminded me of another tree project with a similar shape. Now, believe it or not, I haven't been able to find styrofoam cones anywhere in this town. So I had to invent my own. Something else I don't throw out are thread spools. And in this case I used large, empty cone spools, like these: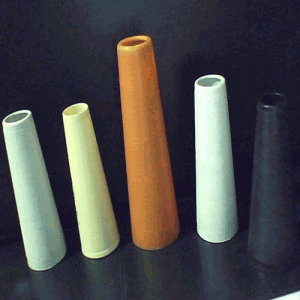 What you want to do is fit them inside each other to make one long cone. If they are all the same size it is best to wrap some cardstock or paper around the top of each cone before placing the next one on top. I also found it was a good idea to hot glue the cardstock to the cone, and then hot glue the next cone on top. I used between 3 and 4 plastic cones for the base of each tree. Once that was ready, I hot glued bits of red and green trim (yes, scraps!) onto my cone. Pretty cool, right?
I think there are many different things you could do with this shape. Do you have other ideas?