I don't know if this happens to you, too, but sometimes when I look at some of the first quilts I made… I cringe. And in spite of the saying that practice makes perfect, I personally never feel I really "get there" with my quilting. And although I am always tempted to push myself a little too hard at times, I am trying to learn to relax a bit more. These days I try to approach my own quilting experience with an open mind, simply enjoying the learning. But sometimes I just can't let things be…
Case in point: there's this wall hanging I made way back when, during my early quilting years. It was, in fact, one of the first wall hangings I made. Until then, it had all been about bed quilts, and all of them had been given away. And then I decided to make a quilt for myself. And I redid my bedroom. So a wall hanging was in order.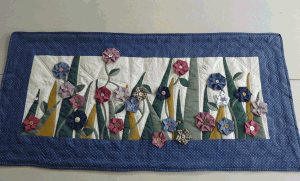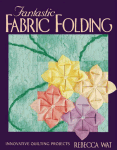 At this same point in time I had also discovered I could purchase books online and had started a small quilting book collection. And among those first books was Rebecca Wat's Fantastic Fabric Folding: Innovative Quilting Projects
. Now admittedly, maybe this was not the best choice for a still novice quilter, who had never sewn anything other than traditional blocks. But I was at a turning point… I knew I wanted more.
So this particular wall hanging was actually a project from that book. In spite of step-by-step photographs, I reached a point where I just wasn't able to understand one of the last steps in the fabric folding process. So I winged it. I made the last folds as best I could, and after quilting the wall hanging I attached those little flowers and hung up the quilt. And for years I have absolutely loved this wall hanging. Even though as time went by I began to understand its flaws.
It finally got to me, so this week I decided to partially take the wall hanging apart and redo it. At the time, I knew nothing about squaring off the quilt top and borders. So I ended up with a somewhat lopsided quilt. And then… just look at this binding! I had no idea of how to make a square corner, so I just rounded it off…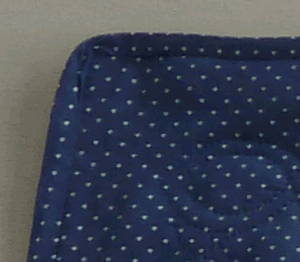 A major problem I've had with this quilt is how to wash it. Because I simply tucked under the last folds on the flowers, even though I have hand washed the quilt very gently, the flowers have tended to unfold in the wash, and I've had to press each one down again after drying. An absolutely tedious process.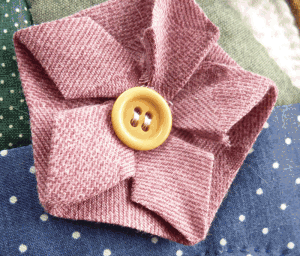 Well, you will recall that I made some cylinder cases as Christmas gifts, and embellished them with some fabric flowers. As it turns out, these are the same type of flowers you see in this wall hanging. You see, I had pulled out the book, examined the step-by-step photographs again… and finally understood that little step that had eluded me before. The difference? Simply put: experience. It now seems so simple… I can hardly believe I missed it before. But, of course, I know so much more about sewing now than I did then. So much so, in fact, that I quickly realized that a lot of the pressing Rebecca shows in her book is absolutely unnecessary. I started playing around with the hexagon shape for the cylinder cases, and sure enough, my method seemed easier.
Ok, so I'm not a complete idiot and didn't take the whole thing apart. But I did take the binding off and squared off the borders and reattached the binding. This time with correctly mitered corners. 🙂
And I redid all the flowers. What is more, THIS TIME I attached them with snaps, so I can take them off to wash separately from the wall hanging itself. Duh.
Now, if I could only learn to take a decent picture. Sigh. You'll probably think it looks just the same as before, but believe me this little baby now hangs straight. Still not entirely perfect, but something I can live with. And continue to love. 🙂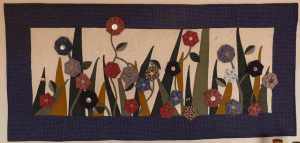 Ok, so there's been a lot of learning here. One of the things I've learned is that it is sometimes best to just let go of a project and move on. But then sometimes it is good to revisit it and improve it. And in my case, this quest for perfection actually allows me to take things a step further to do something else I love and am passionate about: teach others. So yes, keep your eyes open because I hope to be able to put a little video tutorial together in the next few days to share how I have learned to make these fun little flowers.
Oh, and yes… I'm counting this one as a UFO checked off my list! 🙂