A few days ago one of my friends was showing me her latest crochet project. The family has been planning a big outdoor celebration later this month, so she has been crocheting some beautiful pitcher covers for each of the tables. Then she sighed: "It would have been fun to make these out of fabric, but I just couldn't find a pattern for them."
Naturally, I told my friend these could be made in fabric… and then proceeded to figure out how. Whether for a pitcher or a wine glasses, these little babies were super cute and easy-peasy to make! From drawing to sewing each one took only about fifteen minutes… and then another fifteen to attach the beads!
If you are a member of our website, run on over right now and download your file!
In other news… June is quickly coming to an end. And that means… Christmas in July is just around the corner. As in previous years, we will be offering a new Christmas pattern every day throughout all of July. And though you will have to wait a bit, I just can't help myself and thought I would give you a sneak peek of what our Christmas BOM will be this year: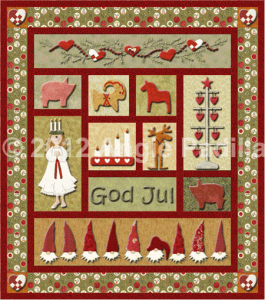 What do you think? Do you like? 🙂