I know… it's time. Friends and relatives who were not able to be at Jamie and Carlos' wedding have clamored for photos. It's taken me long enough, so let me make up for it with this post.
Back in August I already shared some of the details of this wedding, but focused mostly on the wedding preparations. Let me share here a description and a few photos of the wedding itself.
Neither Jamie nor Carlos consider themselves "religious" in the traditional sense. That is, they did not want to be boxed in or labeled. But they both are very spiritual, and wanted to see that portrayed in their wedding. So throughout the wedding they had a mix of traditional and alternative elements.
They started with a private moment… what is often called a "first look." They had not seen each other for a couple of days before the wedding – that is a tradition. Yet even before they saw each other, they first exchanged private vows, hidden behind a wall.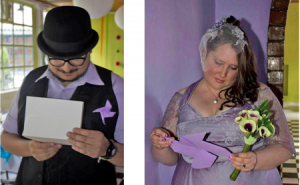 And after reading them, they came together.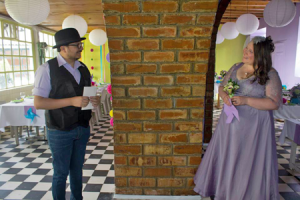 Right off the bat you can see their attire was not traditional. But I think what they wore really reflected who they are. Both Jamie's dress and Carlos' vest were designed by my niece Ana Lía. Photos never seem to do fabric justice, do they? Jamie's dress was fairy-like, with beautiful, delicate lace decorating the bodice and spilling down the back of the dress. Carlos' vest was unusual. I don't know if I've ever seen something like it before. If you look closely, it looks like two garments in one. That is, a vest on top of a vest. It is actually only one piece, but put together in a very clever way.
Jamie's bouquet consisted of a very simple miniature calla lily arrangement, while Carlos chose a simple paper pinwheel for his boutonniere.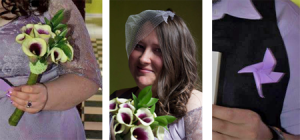 The ceremony took place outside, in the soccer field. The kids chose this location because of the enormous trees surrounding the field, that gave it the feel of an outdoor cathedral. They used the goal posts to hang the paper garlands, creating their backdrop. As you can see, this was a very small, intimate wedding, with only close relatives and friends as guests.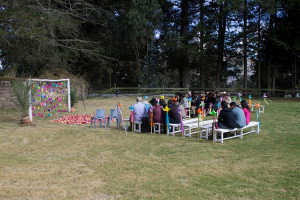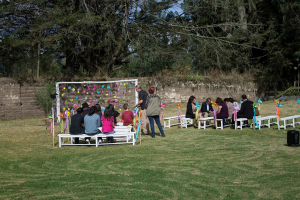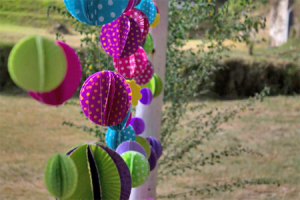 The bridal party was also very small. Their friend Arturo was the master of ceremonies…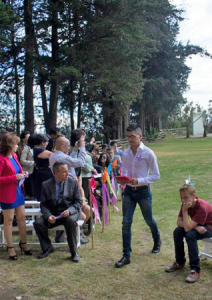 Jamie's cousin Ana Lía was the maid of honor.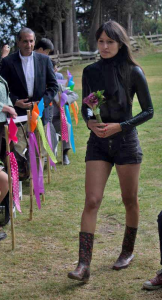 And Carlos' friend Gaby was the "best woman." I guess the best way to describe this would be "eclectic," right? 🙂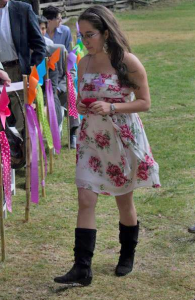 Jamie and Carlos walked in together…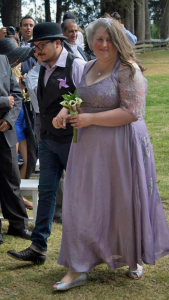 … and a short and very sweet ceremony began.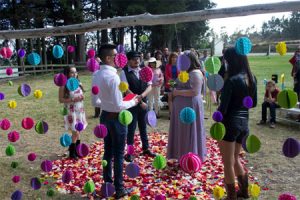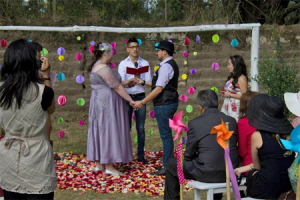 The ceremony included a very non-traditional but beautiful reflection. As the bride and groom joined hands, Arturo talked about what those hands are called on to do for each other: work together, caress one another, comfort in times of distress, even push each other forward if need be, protect each other's dreams. And, when old and wrinkled, may they still find each other and continue to hold on to each other.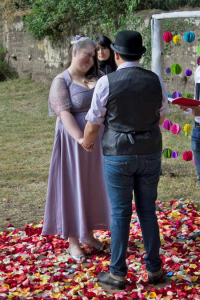 Jamie's dad and girlfriend Leonore sang them a wonderfully sweet (and hilarious) song about the challenge of trying to find a good man or good woman… and how wonderful it is when it actually happens.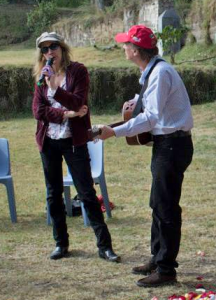 Rings were exchanged.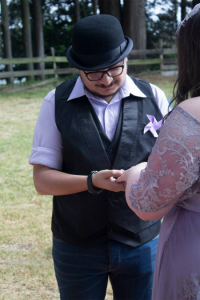 I should mention that Jamie's engagement ring was not your traditional diamond. Of course.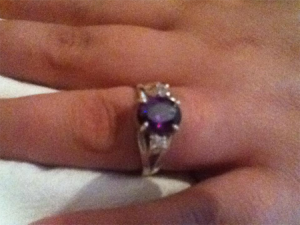 Neither were their wedding bands. I just realized I don't have a close-up photo of the bands, but they are unusual. Each one has a part cut out on the front, so it almost looks like a piece has fallen off. But when you put them together, you can see that they form the shape of a heart. These aren't their bands, but this is the idea: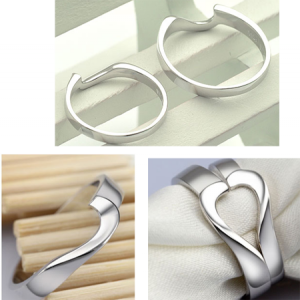 Earlier, before the ceremony began, we had distributed lengths of cording to each member of Jamie and Carlos' immediate families: green for him, purple for her. So at this point in the ceremony  both families were called to join these cords into two braids each, which were to symbolize the family/community walking with and supporting them in their new life together.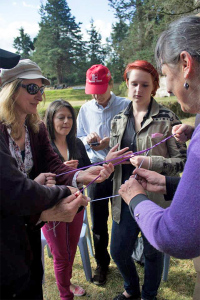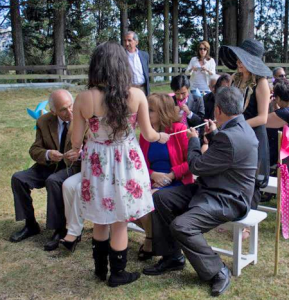 Next was the hand fasting. As each braid was wrapped around the couple's joined hands they vowed to  always respect each other and never break the trust between them; share each other's pain whenever it occurs and attempt to alleviate it; share concerns, trials and tribulations and allow their spirits to grow through these experiences; and share laughter and joy and always seek what is good and positive in life. I'm telling you… it was so touching. And now I understand why people cry at weddings. 🙂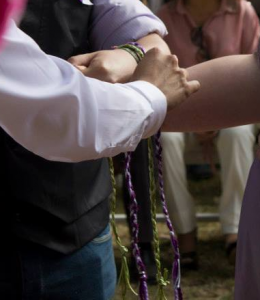 More music, signing of the marriage certificate, and with that the ceremony ended.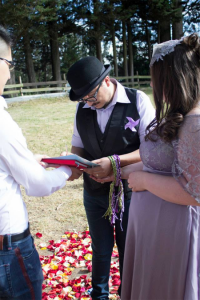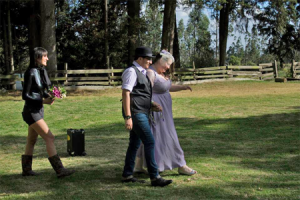 I know, I know. You are all screaming… "What about the kiss????" Well , you should know Carlos is a very shy and private person, and there were some things that he just did not want to do the traditional way… "in public." Yes, there was a kiss. Actually, more than one. 🙂 But before the ceremony, when the two were alone and shared their private vows. Is it cheating if I share a photo here? 🙂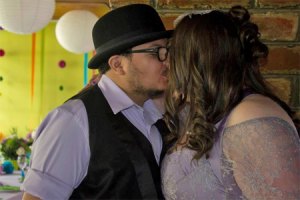 So this turned out to be such a looooong post. And we have just gotten through the wedding ceremony. The reception will have to wait for another day. Believe me… it was a blast! People had so much fun they are still talking about it! So, until next time… 🙂