T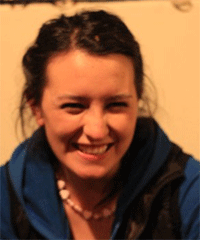 hursdays are dedicated to sewing/teaching/learning with my niece, Ana Lía. Though she is a relatively new quilter, she is extremely talented and catches on very quickly. It's been fun to design and sew with someone who thinks way beyond traditional beginner quilts.

We recently decided to try our hand  at designing and sewing our own rhapsody quilts. (Ricky Tims' Rhapsody Quilts: Inspiring, Amazing-Create Your Own!
)
If you are familiar with this genre, you know then that you start by folding a piece of paper in quarters, and draw your design on one of the quarters. You then trace the design onto the remaining quarters, and obtain a full symmetrical design.
After much drawing, erasing, and re-drawing, this is the design I came up with:
It must have taken me at least half an hour to draw that! Hmm… I wasn't really sure if I liked it, and wouldn't know until I could "see" the fabrics. And, since I definitely did not want to cut the fabrics until I knew what I was doing, I decided I really needed to audition them first. So I (quickly) traced the design in EQ7 (of course!) and started playing with fabrics.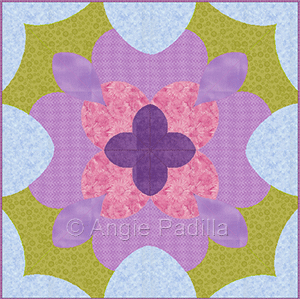 This just didn't do it for me. I decided to try another design, and as I pulled out pencil and paper again, it finally dawned on me! Why was I making it so hard? Why not just doodle in EQ7 and see what came out of it. And it only took about 10 minutes to come up with all these ideas: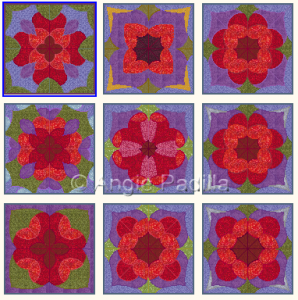 Not too bad for a gal who just can't draw a straight line, what?
Deciding and drawing the applique designs has taken a little longer, but at this point I think I'm going to quit over thinking it and go with this design: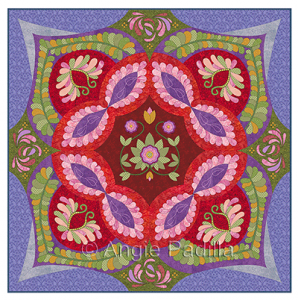 In the meantime, Ana Lía also finished drawing her design. In her case, she does feel comfortable drawing by hand, which she did and then traced in Adobe Illustrator. Here is her awesome design: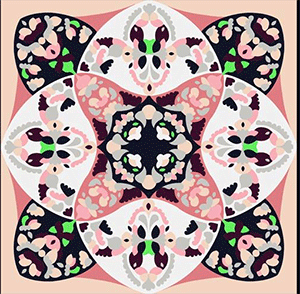 So this week we decided to start sewing her project. She chose all her fabrics, and we cut and stay-stitched all the background pieces.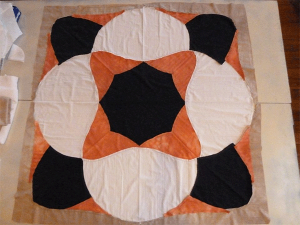 Next week we will continue to cut and start sewing all the applique designs!