Oh, yes… it's been a long, long hiatus to be sure. Nearly a year now without blogging. The reason being: I've been building a house.
Well, not me personally, but a team of architects and workers building my new home during a year-long and very rich process. And being a part of this experience has taken up A LOT of my time, particularly during the last 3-4 months, where I practically spent half a day every day on-site. Lots and lots of little details to decide, which made it necessary to prioritize where to spend my time. Work and the websites always come first, so blogging was set aside.
But at last the house was finished, and I moved into my home a month-and-a-half ago. Yay! As anyone who has built knows, there are still small details to be finished, that will come with time. And a lot of unpacking. And even more organizing. That may take months… but I am basically settled, and have started to nest. 🙂
So I thought I would share a few photos of my new home…
There is a lovely front entrance, but I will show the back first, because the house has been designed to draw one through the house back towards the outdoors: a covered porch, the pool and orchard. The window on the right belongs to my bedroom, where I have a chair and table where I can sit and sew and appreciate the view into the valley below.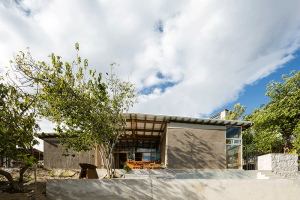 The pool, the pool… I love it! Those steps lead up to "my" side of the house, up to my bedroom and a private garden. In the background you can see my mother's house. We are once again neighbors, as we used to be when living in the city. 🙂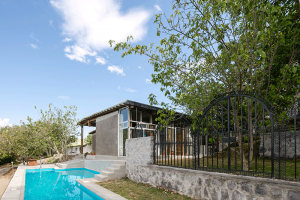 A closer view of my side of the house. To the left, my bedroom, with the tall and comfortable wing back chair where I can sit and do some hand sewing. In the middle, the laundry/pet room, and at the far right, my new quilting studio. The windows were all recycled from our family homes in Quito.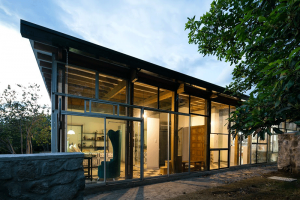 A view of the central open space area: living and dining room, with an enormous kitchen at the far end. The door at the far end leads into the back porch. On the left, between the kitchen and dining area is a door to the corridor that leads to my private quarters. On the right, three guestrooms open directly onto the common space.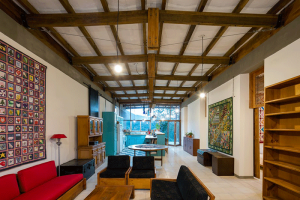 And, of course, there has to be a sneak peek at my new studio. Still working on organizing it all, but just love, love, love this space so far!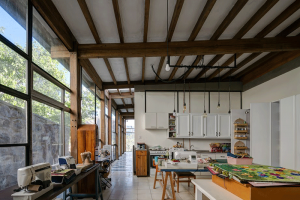 There are still boxes and boxes to finish unpacking, and I still need to finish organizing almost every space in the house. Pictures and wall hangings that need to go up, beds to be assembled in the guest rooms and quilts to be made.  This house is going to continue taking up quite a bit of my time. But I am finally HOME, and it feels so good to nest! 🙂