My second oldest UFO. Finally finished this year. This quilt was thought up about 15 years ago, and initially was supposed to be a gift.
It was also the first time I machine quilting a large quilt on a domestic sewing machine. A king-sized quilt at that. Bad idea.
I struggled so much with the bulk, which made it extremely difficult to work the design evenly. I was hating the way it was turning out, and knew no way was I going to unstitch, and therefore no way I was going to gift it. So I put it away, thinking at some point I would finish it for my own use. Which is what I have done. Finished quilting it, that is.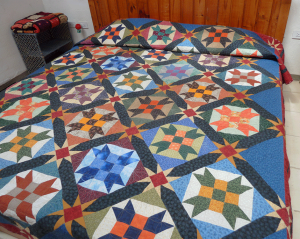 And it turns out… it is beautiful. So many mistakes were made, and I can tell there is an enormous difference in the center, as opposed to the outer edges that I have just now finished and that prove that the "trick" to free motion quilting is… practice, practice, PRACTICE.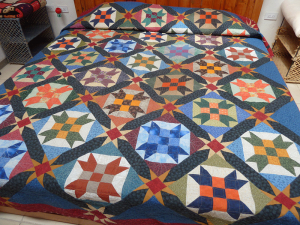 And that we are our own worse critics. You would have to get down really close and examine this quilt minutely, front and back to see all the boo-boos. All everyone else sees is a stunning quilt. I am loving it now. 🙂