Like any other quilt maker, my #1 "complaint" is the lack of time to sew everything I would like to sew. So when it comes to other designers' BOMs and quilt alongs, I tend to admire from a distance, and very, very rarely participate. I have enough UFOs as it goes, and don't want to add to the pile.
However, every now and then a project simply grabs my attention and won't let go. So April found me participating in Helen Godden's Flower Power Quilt Along. The reasons why I decided to try out this project were because I am constantly trying to improve my FMQ skills and this particular quilt along involved using black thread for the quilting. Stunning.
This was so-much-fun! I have still so much to learn and this was an opportunity to do so. I decided to add to my cushion collection, using eight of the nine blocks that made up this project: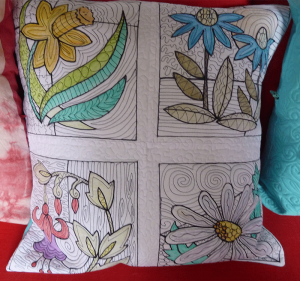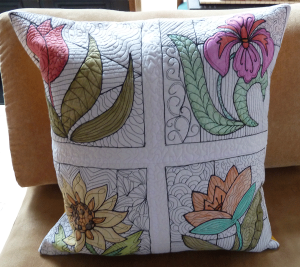 I didn't want the ninth block to end up an orphan, so I bound it to be hung as a mini wall hanging. Just love the way the black thread makes things pop.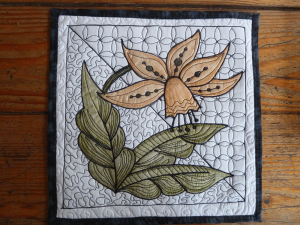 If you are interested in honing your FMQ skills a bit more, you will find the patterns available on Helen's website here. And you can follow her instructions for each block in her YouTube channel here.