I squeezed in some time yesterday for another batch of soap. This could very well be the last for this year, although I'm still tempted to make more. It's so much fun!
This particular batch is one of my favorite soaps: Mint. I use my own blend of peppermint and spearmint for this. In addition to smelling heavenly, I like the little green specks that will show through in the bars.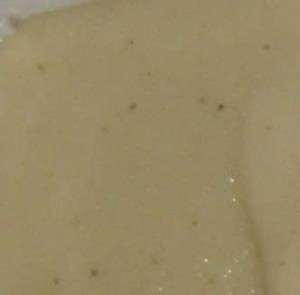 Once again, those empty freezer paper boxes have sure come in handy!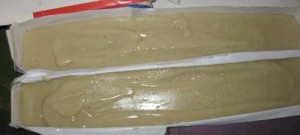 Ok, so far I have Lavender, Oatmeal & Honey, Strawberries & Cream, Rosemary, and Cinnamon & Spices. And now the Mint. Hmmm… I wonder if I shouldn't squeeze in one more batch this weekend? It takes 4 to 6 weeks for the bars to cure, so I'm pushing the limit here. But Roses sounds nice. And I've forgotten another favorite… Cucumber! And Carrots! Oh, well… I've got to stop somewhere. (-: