Despite criticism and opposition from different sectors (and my own doubts on several political issues), I do have to say I live in an exceptionally democratic country. That is, if you use elections as one of the indicators for democracy.
I won't get into the very involved political controversies of this, my tiny country. Just to say I do love it here, I would rather think positively about all things in life, in general, so I refrain from making any type of political comment. 🙂 I simply bring this up here to share that yesterday we were called to yet another election, this time with regard to a 10-question referendum. If you really, really are curious about it, there's an article here that gives a little insight.
I should point out that when I was growing up in this country, we lived most of the time under military dictatorships. I only recall once as a child going with my father to see him vote. It really impressed me. And maybe that is why any election day here seems to reflect a lot of the culture, and becomes a celebration. Like many other Ecuadorians, for us it is a family event. Meaning we all go out together to vote. Strangely enough, even though we all share the same address, we all have to vote in different places. So yesterday morning was pretty much spent hopping around town, while each one of us took his or her turn voting.
I didn't have my camera with me for the first two times, when Jamie and I went to vote, and then I forgot to take pictures of my mom voting (we ran into someone we knew and I got distracted!). But I did finally remember with my oldest son, Jono. Can you see him waiting in line?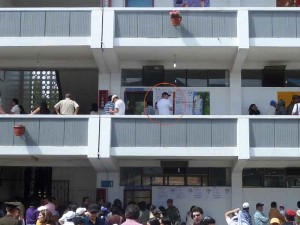 Elections usually take place here on Sunday, but this time around it was set for Saturday because of Mother's Day. Which I am celebrating today just the way I like it… a quiet day with the kids (they are cooking!) and my mom. No bells and whistles, just enjoying some family time together.
I hope your Mother's Day is just as special!