It's time to enjoy the Spring 2013 Bloggers' Quilt Festival, sponsored by Amy's Creative Side. Click on the button in the sidebar to see other participating blogs.
I very, very rarely participate in a BOM project, be it one of my own or some other designer's. But last year I just couldn't resist working on the BOM project I offered on my website for 2012: Itching to be Stitching. If you know anything about me, then you already know my first love in quilting is for applique projects. That's what I design, and that's what I like to sew. And I normally do hand applique at that.  But I really didn't feel I had the time to set aside to hand applique this project, so I opted for sewing it on the machine. And found I really did enjoy working on the machine… what satisfaction to get it done fast! 🙂
My own sewing tools served as inspiration for most of the designs!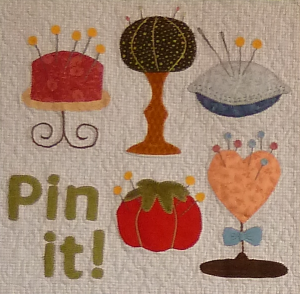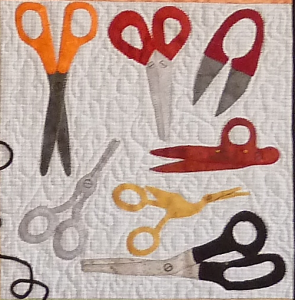 One of the things I enjoyed a lot about both designing and sewing this wall hanging was working with wording. So I now find myself incorporating sayings in more and more of my designs!