I am in full Christmas mood. I know, I know… it's still September… and I just can't help myself. 🙂
Yesterday some friends came to spend the day. One of them is a life-long friend, another one a one-time quilting student who I hadn't seen in years, and the third more of an acquaintance. For all it was the first time they visited me in my new home.
I have a hard time sitting still, and whenever there is a chance, I HAVE TO teach something. So while we chit-chatted we worked on a favorite little Christmas ornament. Such fun!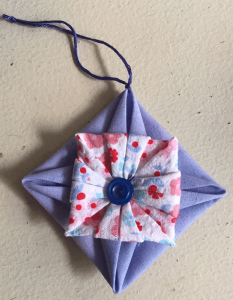 If you would like to learn how to make one yourself, I have a video tutorial for you here!