A new year… In looking back at what I was able to accomplish during 2019, I am happy. It seems I never have enough time to do all I would like to, but last year I came close.
I actually started on Christmas gifts in January 2019. Now that's a first! Some quilts, and a lot of crochet. This also explains why there was little posting on this blog last year… keeping things secret from curious eyes. 🙂
So I will now share a little from the sewing7knitting/crocheting that made me happy last year.
Enter Scandinavian Flowers. This was our free BOM for 2019. I actually put this quilt together in a hurry, in time to send off to my sweet granddaughter Alexia for Christmas. My choice of colors really pleased me, even more so than those of the original design. Check it out!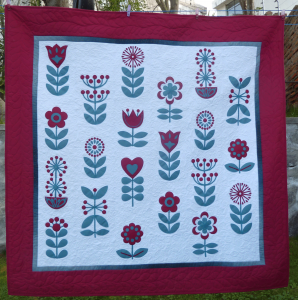 This pattern continues to be available through our online shop… here: